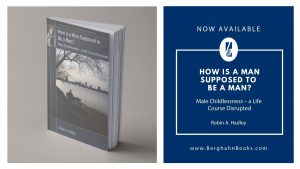 My book, 'HOW IS A MAN SUPPOSED TO BE A MAN? Male Childlessness – a Life Course Disrupted' has just been published by Berghahn Books! The book is the latest in the Berghahn Books Series: FERTILITY, REPRODUCTION AND SEXUALITY: SOCIAL AND CULTURAL PERSPECTIVES.
Follow this link to the publishers webpage for more details on 'HOW IS A MAN SUPPOSED TO BE A MAN? Male Childlessness – a Life Course Disrupted.'
Follow this link to read a blog based on one of the themes of the book: Myths around Men.
REVIEWS
"I think this is an excellent piece of scholarship that covers an often unspoken topic in a sensitive, novel and comprehensive way. In this sense, it contributes important new knowledge to an area by considering it from a different viewpoint – most notably moving beyond a simple biomedical view or an experiential view of younger men and infertility." • Steve Robertson, University of Sheffield
"This is an important piece of work that addresses areas of masculinity, sexuality, life and an exploration of lived lives through research that have previously been underrepresented in the academic and public press." • Josephine Tetley, Manchester Metropolitan University
BOOK DESCRIPTION:
The global trend of declining fertility rates and an increasingly ageing population has serious implications for individuals and institutions alike. Childless men are mostly excluded from ageing, social science and reproduction scholarship and almost completely absent from most national statistics. This unique book examines the lived experiences of a hidden and disenfranchised population: men who wanted to be fathers. It explores the complex intersections that influence childlessness over the life course.
394, 12 illustrations, bibliography and index.
BOOK CONTENTS:
List of Illustrations
Foreword: by Graham Handley
Acknowledgements
List of Abbreviations
Introduction
Chapter 1. Contexts of Childlessness
Chapter 2. Ageing and Male Involuntary Childlessness
Chapter 3. Methodology, Method and Analysis
Chapter 4. Pathways to Involuntary Childlessness
Chapter 5. Negotiating Fatherhood
Chapter 6. Relationships and Social Networks
Chapter 7. Ageing Without Children
Conclusion
Epilogue
Appendix 1: Pen Portraits, in Interview Order, and Interviewer Reflections
Appendix 2: Interview Schedule – First Interview Guide
Appendix 3: Interview Schedule – Second Interview Guide
Glossary
References
Index